FEATURED SPEAKERS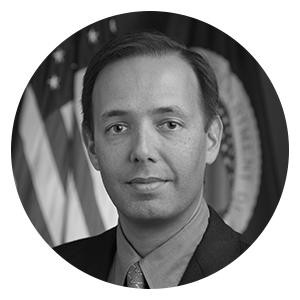 Christopher Alvares
Chief Data Officer
USDA
Read More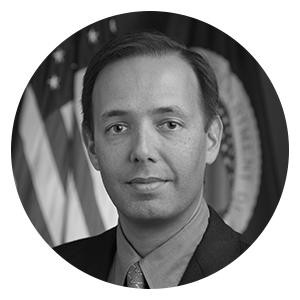 Christopher Alvares
Chief Data Officer
USDA
Christopher Alvares serves as the Chief Data Officer (CDO) at the United States Department of Agriculture (USDA). In this role, he is responsible for developing strategies that enable USDA to fully leverage its data as a strategic asset, improving organizational decision-making and outcomes for citizens. He is also a member of the Federal Chief Data Officer Council working with other CDOs to improve the use of data across government.
Chris started his career in the private sector, working for several small biotechnology companies analyzing the relationships between genetics and human diseases. He worked in the labs generating data and quickly moved into genomic analytics. Chris became the Director of a data analytics staff providing genomic analytics services to other biotechnology and pharmaceutical clients.
Chris began Federal service in 2008 as a data analyst for the Food Safety and Inspection Service (FSIS). He helped grow and build out the analytics office from a staff of five to over 20 which supported a wide range of analytics and reporting for FSIS. Chris moved into leadership roles as Branch Chief and then Director of the Data Analytics and Integration Group in FSIS. Chris also served on the Interagency Food Safety Analytics Collaboration with representatives from FSIS, Centers for Disease Control (CDC) and the Food and Drug Administration (FDA) to advance analytics in foodborne illness. In 2018, Chris became a Special Advisor to the General Services Administration (GSA) Center of Excellence (CoE), leading a team to modernize data analytics at USDA. Chris joined the Office of the Chief Information Officer (OCIO) as Deputy Chief Data Officer in 2019 where he has been continuing the analytics modernization across USDA.
Chris graduated from Johns Hopkins University with a Bachelor of Science degree and earned a master's from Johns Hopkins University while working. He is a graduate of the Federal Executive Institute's Leadership for a Democratic Society program.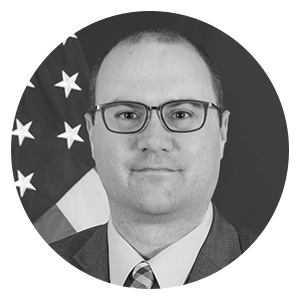 Eric Stein
Deputy Assistant Secretary, Office of the Global Information Services
Department of State
Read More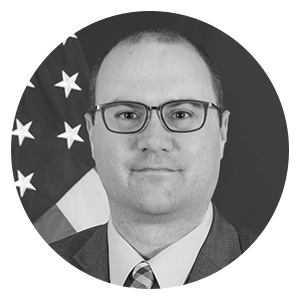 Eric Stein
Deputy Assistant Secretary, Office of the Global Information Services
Department of State
Mr. Stein is currently the Deputy Assistant Secretary for the Office of Global Information Services (A/GIS). In this role, he is the Department's Senior Agency Official for Privacy. He is a career member of the Senior Executive Service. Prior to serving as the A/GIS DAS, he served as the Director of the Office of Information Programs and Services at the State Department.  This office is responsible for the Department's records management, Freedom of Information Act (FOIA), Privacy Act, classification, declassification, library, and other records and information access programs. Over the past few years, Mr. Stein has served in key leadership roles involving the Department's improvement of records management and agency-wide FOIA initiatives. He also serves as co-chair of an interagency FOIA technology working group led by the Department of Justice and the National Archives and Records Administration. From 2013 to 2015, Mr. Stein served as the acting Director of the Office of Global Publishing Solutions (A/GIS/GPS) responsible for the Department's printing, publishing, graphics, and copier management services. He also spent four years in the Office of Management Policy, Rightsizing, and Innovation (M/PRI), now the Office of Management Strategy and Solutions, where he served as the Department's coordinator on the Information Sharing Environment, an interagency effort to improve the sharing of terrorism-related information throughout the federal government, as well as with State, local, and tribal governments, and foreign partners. Mr. Stein served as an intra- and interagency coordinator on the State Department's efforts to mitigate the WikiLeaks incidents. During this assignment, he also served as the Department's point of contact for Controlled Unclassified Information (CUI) mandated by Executive Order 13556, tribal consultations, and other cross-cutting, Department-wide programs. Mr. Stein received a B.A. in Political Science from Boston College and an M.A. in Politics (American Government) from the Catholic University of America.
Brian Johnson
Senior Vice President of Operations
Presidio Federal
Read More
Brian Johnson
Senior Vice President of Operations
Presidio Federal
Brian is responsible for the development and implementation of corporate operating strategy, targeting growth through productivity improvements, and innovation across all core functional business areas.
Before joining the Presidio Federal Senior Leadership Team, Brian held leadership roles at Presidio and Cisco Systems, and is a retired law enforcement officer. He holds an MBA in Management, MSc in Finance, PMP, and is a Professional Scrum Master I.
Join Us on December 5, 2023 at 2:00 PM ET!
In an era defined by technological advancements, artificial intelligence has emerged as a transformative force within the federal government. AI is playing a pivotal role in reshaping the workforce, cybersecurity and operational efficiency of the government. AI-driven solutions are allowing federal agencies to optimize their operations, streamline processes and bolster their cybersecurity defenses. But how do leaders identify the right AI usage for their organizations?
Join Nextgov/FCW for an exploration into the vital role AI can play in federal government modernization — and how to develop an AI strategy. Moreover, learn industry best practices and how you can leverage AI from experts at Presidio Federal and IBM.